Italian firm of furniture and accessories, Mogg is a young and curious company that invents and recreates everyday objects in a new and visionary way. The use of quality materials combined with the attention to details and the vision for a democratic design are its hallmarks.
Mogg combining the initials of MObili (furniture) OGGetti (objects). Original, exclusive, unique items!
CCLIGHT
The essential is now visible to the eyes: the minimal aluminum profiles of this bookcase is highlighted with integrated LED lighting. The Leds provide two light options, a hotter and a cooler to satisfy the desired atmosphere. Cclight is available in two different heights and three finishes.
design: Carlo Colombo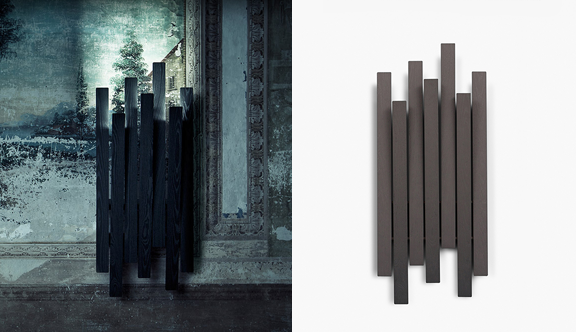 Ski
"I was renting skis and noticed that the entire wall was lined with skis. I hung my jacket on one of the protruding hooks and in that precise moment, I had the idea of a coat-stand. I then thought of adding a splash of light… the result was Ski."
Made inn ash heartwood, Ski is available in black, white and charcoal gray.
design: Pinuccio Borgonovo
PEAK
The mirror to greet you every day when leaving home and the console to welcome at your return and support bag, keys or mail.
Peak is the console with mirror to illuminate the entry and complete the atmosphere of the house. The shelf is available in glass or marble cut along the grain of the raw stone
design: Pinuccio Borgonovo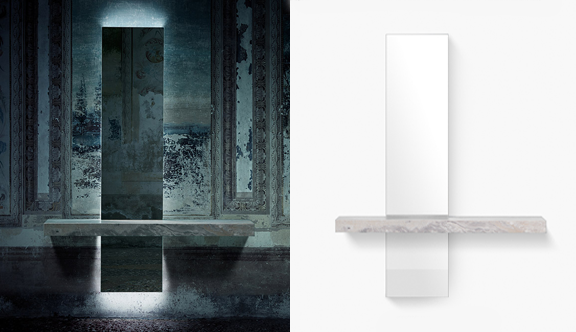 Nuvola di luce
Floating on a cloud of light is the spectacular effect created by this armchair. Its innovative design won the award Architizer A + Awards 2014. Light and handy, this armchair lives of innate light with the light panel placed inside. Available in two versions, with or without light, and in three colors.
design: Thesia Progetti