The Veneta Cucine Store in Gallarate has opened in december 2012. In over 300mq, it offers the entire world of kitchens of the core Venetian brand, from the classic and timeless models as the Start Time kitchen to the contemporary Oyster model.
a 40 years partnership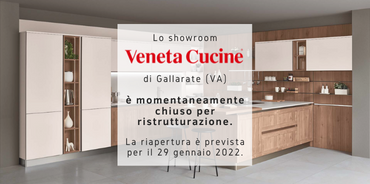 The partnership between Moro Arredamenti & Veneta Cucine born over 40 years ago and it develops thanks to a mutual trust and the sharing of values such as the handcrafted knowledge in attendance to innovation and taste, in order to make the design an affordable value, and the offering of a long-lasting, environmentally friendly and susteinable product.
GIFT CARD ENJOY DESIGN
The perfect idea to impress even the most particular tastes.Our Gift Card "Enjoy Design" is available in 4 different sizes. It 's the perfect gift: practical, original and certainly appreciated.
Discover Top Chef
where we are
Store Gallarate - Veneta Cucine
Via Paolo Campi 2, ang. Via Milano
21013 GALLARATE (VA)
Italy

Phone: +39.0331.78.58.28
Fax: +39.0331.78.58.28
Opening Hours
Monday: 3.00 pm - 7.30 pm
Tu - Fr: 09.30 am - 12.30 pm | 3.00 pm - 7.30 pm
Saturday: 09.30 am - 1.00 pm | 3.00 pm - 7.00 pm
Sunday: closed
Contact us
VENETA CUCINE'S LIVING
Veneta Cucine has developed the theme of living, going beyond its traditional boundaries of the kitchen's world and putting all its experience in the design of living systems.
The proposals are highly versatile and allow you to create bookcases, containers or compartments of different sizes and finishes.
For those with a kitchen open to the living, this is the ideal solution: the elements are available in all the finishes of Veneta Cucine's kitchens for a perfect friendly space.